03/13/2012 Nikon D4 video by Filippo Chiesa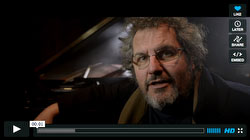 Filippo Chiesa had the chance to use a Nikon D4 pre-production unit for one day. Looks like the low light capabilities are excellent (we are not surprised knowing the D3s).
---
03/12/2012 Painting with your Body
This is painting the other way. We were lucky to film this session. Camera used is the Sony NEX-5N + 18-200mm lens handheld at 1080p60p for slomo. Editing was done in FCPX + Irudis Tonalizer | VFX.
Here a few photos from the session: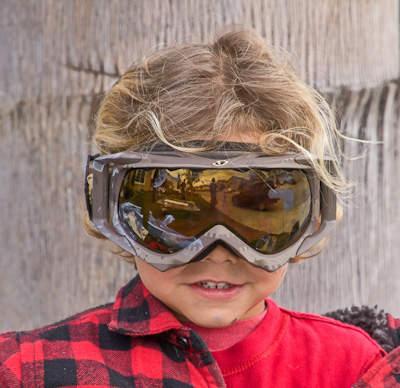 The Painter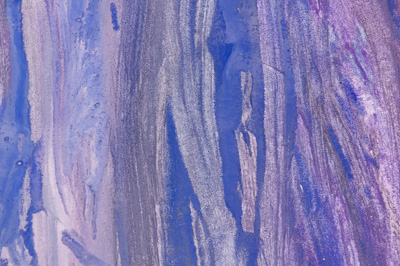 Unretouched Painting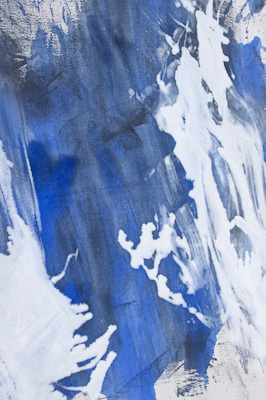 Unretouched Painting
---
03/08/2012 Irudis releases the free Tonalizer Lite
Today Irudis started to offer a free Tonalizer Lite version (for Final Cut Pro X). Tonalizer Lite is a very useful plugin on its own but at some point you may want to upgrade to the full version (get the trial first).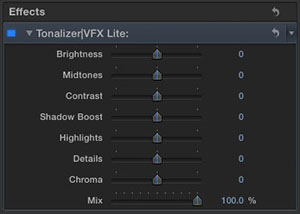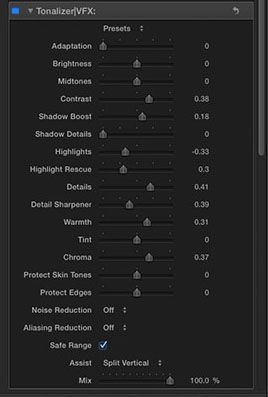 Tonalizer Lite Controls Tonalizer Controls
Download your own copy of Tonalizer Lite and experience the Tonalizer editing quality.
---
02/25/2012 Canon 5D Mark II with VAF-5D2 Anti AA Filter Test
The Canon 5D Mark II can deliver amazingly nice videos. But if you shoot certain scenes aliasing/moire can ruin them easily.
Finally there is a solution: The VAF-5D2 Anti AA Filter. As our moire torture test (watch the roof tiles) shows it works as we hoped for.
- Test was shot with Canon 5D Mark II and 24-105mm f/4 Zoom at f/8.
- Edited in FCPX and Tonality Grading with Tonalizer|VFX
Notes:
2. Filter is also easy to remove but be careful not to damage the filter with removal tool
3. Please study the "Important Things to know"
Conclusion
------------
The VAF-5D2 Anti AA Filter solves the aliasing/moire issues for us and improves the video quality a lot. We did not find any major loss in sharpness. A friend of us also confirms the very positive effect on more diverse footage.
---
02/22/2012 Irudis Tonalizer | VFX updated Demo Reel
We updated the demo reel and demonstrate:
Highlight Recovery (hard if even possible to do with other tools)
Shadow Recovery
Detail Sharpening
and more
Best you check out the demo version of Tonalizer|VFX yourself.
Disclosure: We are involved in the development of Tonalizer|VFX.
---
02/08/2012 Video from pre-production Nikon D4 by Johnnie Behiri
Johnnie Behiri is a professional DP and had the chance to shoot with the Nikon D4 at day and night. He also shares his first impressions at Vimeo. So please read his comments.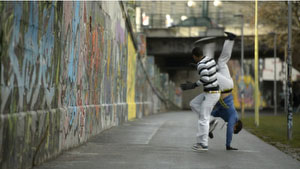 Day (click to view on Vimeo)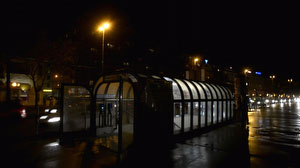 Night (click to view on Vimeo
We hope to review the Nikon D4 as soon as possible.
---
01/22/2012 Irudis Tonalizer | VFX 1.1.1 released
Tonalizer|VFX 1.1.1 is a free update for all current Tonalizer owners. It fixes possible posterizations in the shadows on some hardware configurations. Update is recommended.
Disclosure: We are involved in the development of Tonalizer|VFX.
1/19/2012 Casa De Fruta 2012
Second test of our hacked GH2.
1/18/2012 Winter Oak Hills
Below you can see how the footage looked before Tonalizer|VFX grading.
1/18/2012 Irudis Tonalizer | VFX 1.1 released
Tonalizer|VFX 1.1 is a free update for all current Tonalizer owners. There are two main new features in the version V1.1 (read the new manual).
Detail Sharpening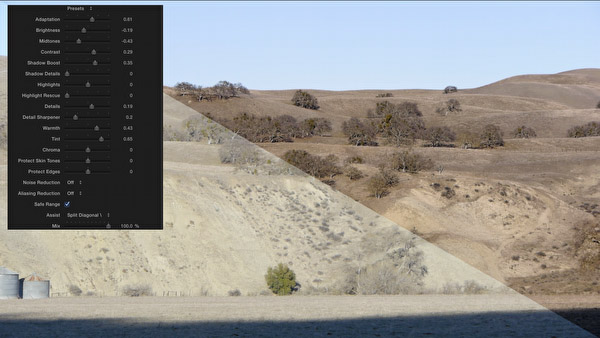 Before after split view in 1.1
The Detail Sharpener control enhances fine details in the footage. Care should be taken when applying the Detail Sharpener as the footage may take on an undesired artificial appearance or amplify noise that are mistaken for details.
Also, in order to avoid the influence of the soften effect of the size-reduced preview, it is best to apply the Detail Sharpener while viewing the footage at 100%.
Selective Presets
Tonalizer 1.0 had already presets. Now with Tonalizer 1.1 there are selective presets which make presets so much more useful.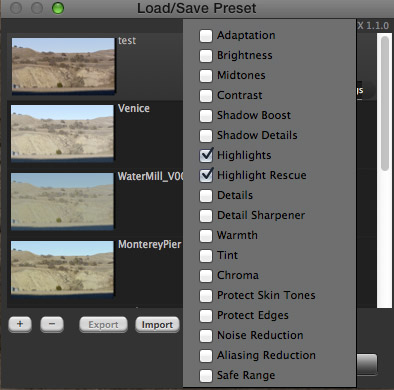 Selective Presets
Any preset can be restricted just to change the features you want and this can be changed at any time later.
Tonalizer|VFX CineStyle™

This is a second plugin included in the same package. For use only with footage shot using the Technicolor CineStyle™ picture style profile for Canon EOS DSLRs. Note: Tonalizer|VFX CineStyle is available in Final Cut Pro X, Motion 5 only (means no FCP 7).
If you don't own Tonalizer get the free demo and check it out.
---
1/17/2012 Vienna coffee houses-Working with the Sony NEX5n for broadcast
1/16/2012 Video Installation with WD Media Player
1/11/2012 Pacific Grove Monarchs 2012
The Monarchs were this year at a different spot in Pacific Grove. What you see on the video is not possible to experience with your naked eyes. We thought we could not do anything under these conditions. The Monarchs were mainly in the shade and fully clustered (was still cold). Glad we did not give up and got these clips. We think it really shows the beauty of these creatures.
Camera: Panasonic GH2 (not hacked) with 100-300mm @about 300mm (600mm 35mm equivalent)
Editing: FCPX and Tonalizer | VFX
---
12/17/2011 Brief Nikon V1 Test Video
We had the chance to try a Nikon V1 in Monterey. We think the first test is quite encouraging because we shot in the worst possible light.
Handheld with 30-110mm zoom
Worst possible sunlight
Tonality grading with Irudis VFX|Tonalizer
Edited in FCPX
Software stabilization in FCPX
Sound from camera (-14db)
Click on picture to play.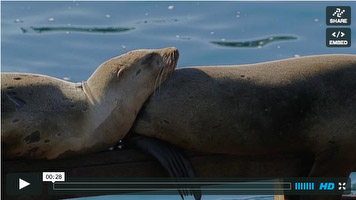 ---
12/14/2011 New Irudis Tonalizer Plugin for Final Cut

Disclosure: We are involved in the development of this product and used it for some months now.
Irudis Tonalizer is a photographic-style grading plug-in for video editing. It uses advanced imaging algorithms to restore highlights and shadows. The best way is to view the demo real and download the free trial (full functioning with some watermarks).
There are quite a few plugins that are mere Motion templates using the Motion API without adding any new imaging code. Tonalizer is new optimized (for GPU) code not available in Motion otherwise.
Download this original clip and try recovery in any other plugin. I posted it 11 months ago to get some help (so it is a real world case). At that time I abandoned the clip but would use it today.
We find that Tonalizer helps a lot to rescue highlights and opens up shadows nicely. Give it a shot.
Tonalizer Review by Peter iNova
Peter has a long history working with video.
---
12/06/2011 First GoPro Hero 2 Sports Camera Test Video
Shot with new GoPro Hero 2 and the Smoothee Steadicam (still learning to use the Steadicam). Edited in FCPX.
Removed FishEye distortions with custom Photoshop script.
---
10/27/2011 Our first iPhone 4S Video
All video shot handheld with iPhone 4S (Apple camera App) at 1080p.
- Downsampled to 720p in FCP X
- Software stabilized in FCP X
- Edited in FCP
We used the iPhone ear phones as the remote.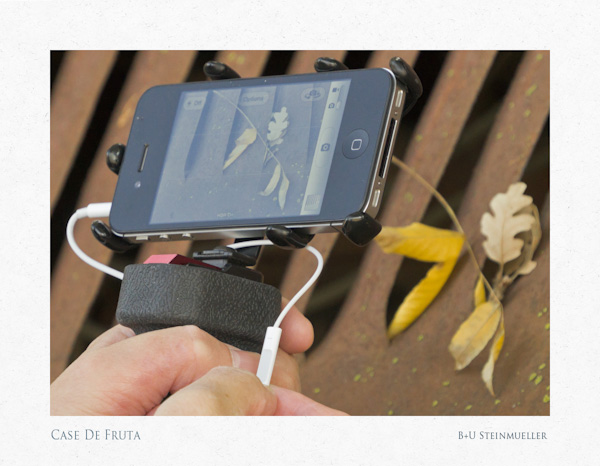 10/07/2011 JVC launches GC-PX10 hybrid 12MP stills/1080p video camera in US (via)
10/06/2011 AF100 Video from Point Lobos updated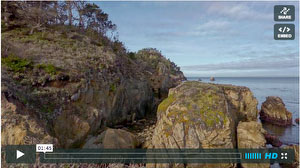 10/02/2011 NEX-5N sample video clips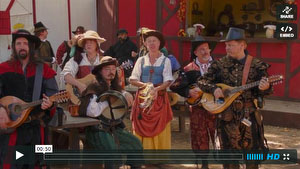 10/02/2011 Music Video with Sony A-65 by Johnnie Behiri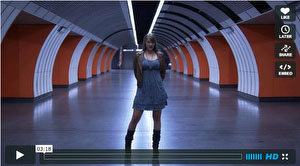 See what a good DP can make out of the HDDSLRs.
10/01/2011 Final Cut Pro X update 10.0.1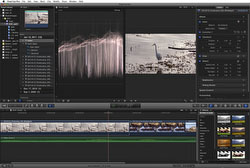 This update at least fixed a bug that haunted us the most (horrible rendering artifacts).
09/29/2011 Moss Landing (Sony HX9V P&S)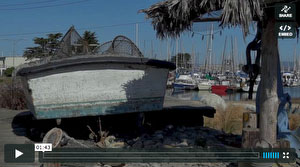 Amazing what a P&S camera can do with video. The two videos here were actually shot at two different days.
09/29/2011 Moss Landing (NEX-5N Video)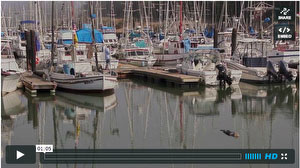 We have now our NEX-5N camera for a week and this is the first video shot with it.
09/27/2011 Ace-Sachtler's tripod system (by Johnnie Behiri)